Plans to be made, chores, crafting
PLANS
We are taking a vacation this summer, and this time, we're going SOUTH, instead of our usual "North to the Poconos" each October. There's a reason for this deviation from our normal routine. Actually, there are 6 reasons. We'll be driving further, be away longer, burn more gas,  kennel the dog for so long that she'll think she's been forgotten. No, wait. That moron becomes frantic in the time it takes me to pee, so that's no real gauge of time. Her reservations have been made at what Paul calls "Camp Grenada" and only us old farts would get that reference;  in truth the place is beautiful, immaculately clean, with caring owners and staff, and the dog will be fine, if lonely, despondent over a reduction in her daily dog-biscuit intake, unable to get any sleep anywhere other than on her (??) own (??) waterbed, with her 3 pillows. Damn dog will have to get over it – we are going!! We can not resist the "bait".
So my first thought was about budgeting. While I was figuring how high the expenses might go, apparently my appliances were chatting in secret. First, my vehicle intentionally tore its serpentine belt. I have since found out that this is a snake of equipment that is expensive to buy and higher still to have installed. When I took the car in, I was expecting to pay for the standard, routine servicing and a brake adjustment.  The microwave spoke up next, loudly, and shooting lightening bolts at me while I was trying to melt chocolate chip bits for this luscious dessert I was making, which the damn dog later ate most of. When Himself came home and heard what was going on, he said we need to get a new one, but first, he put a cup of water into it to heat, and it worked fine.  Damn! I hate it when they conspire to make me look like an idiot.  After 2 days of this, where the stupid thing sparked and made hideous noises at me and, damn it, worked fine for him, the microwave must have gotten out-of-sync, and acted like an ass in front of HIM instead of me. He declared it unsafe to use. As life can't go on, meals can't be cooked well, they can but it's just so much easier with a microwave, HE finally decides AGAIN that a new one shall be bought. And we take another hit to the checkbook balance, while I'm trying to set money aside for our trip. (And I bought 2 pairs of shorts, a top that will match both pairs, and 16 skeins of Cascade 220). I need a new bathing suit, but thoughts of shopping for that make me feel ill.
CHORES
They are many, most won't get done, but I'm hoping I'll pack and bring what I need for this trip. On several occasions, I have failed to do it as well as needed, and haven't lived it down. So what if I went away for a week and left my suitcases home??  I remembered the beer. Sheesh! I'll not be bringing a spinning wheel on this trip, too many small hands at the destination, so will have to start some knitting.
CRAFTS
Much of the world is watching the Tour de France, started on the 5th of July and it goes through the 27th. While they spin their wheels, we spinners spin ours for the "Tour de Fleece." We must spin every day that they ride – and I've got fiber enough to get me through.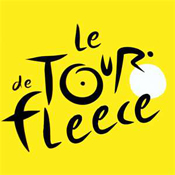 Currently working on a Polworth/Silk blend, 85/15, that I got at Maryland Sheep and Wool in May, made by Dizzie Lizzie's Handpaints in colorway Wild Rose, from deep rose up to a pale blush.
I'm spinning it really fine, and will chain ply it to keep the colors true. But it's slow going, drafting it to a thread size!
This is the SAME COLOR, but the picture was taken under different lighting conditions. Â It really is the color shown in the fiber picture! Â Next up is over a pound of natural-colored fiber.
And I should do some laundry, I guess.