A week to relax
We headed north on Friday, through a horrible rainstorm. Glad I didn't waste money taking the car through the car wash! A stop at the Allentown Plaza filled us up midway and we arrived up here at about 230p, too early to check in. Fortunately, a bar at the hotel complex allowed us to while away the time until we could get our room keys! Food and drinks and good company started then, and have continued through our stay. And sightseeing!
Lovely condo, plenty of space for us all, beautiful grounds. The only negative, and admittedly it is only a slight inconvenience, is that the condos are in a complex of 8 units each, in a U-shape, and we are at the back. All parking is in the front. Carrying a week's worth of packed goods for each of us was a bit of an effort, and the humidity of the first day, thanks to all that damn rain, made it harder on all of us.  And the many steps up added to it! We were all huffing and puffing by the time we got everything in and all needed a drink!
This is the entrance to our little group on condo units, with Paul's golf clubs sitting there patiently waiting for someone to summon the energy to carry it the rest of the way. There are maybe 15 steps to get up that far, then closer in, another 8-10 steps, then the wooden stairs up to our front door!
The Delaware Water Gap is a scenic wonder. South of the I-80 bridge is a small bridge, only wide enough for foot traffic and we drove down there just for the view pointing northward!
No, I was not standing in the middle of the Delaware River to take these pictures.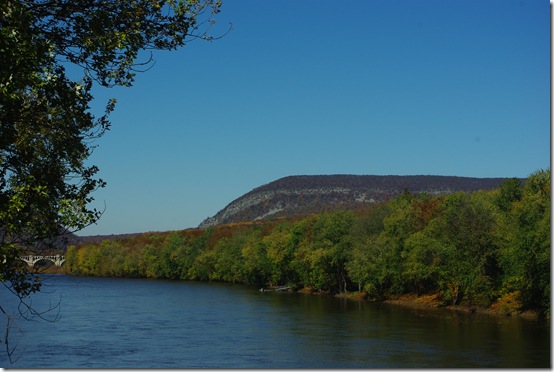 The "gap" is clearly visible, where eons of water has cut through the mountain range that runs from Pennsylvania into New Jersey. This pristine waterway runs south, down past Philadelphia and eventually empties into the Delaware River and the Atlantic. But up here, it's still clean and beautiful and doesn't stink!
To keep down expenses, we brought plenty of food with us, co-ordinated in advance between Joyce and me. All meal planning was done around the concepts of "suitably filling, quick to prepare, quick to clean up afterwards." Joyce and I have both spent many years of preparing tasty and nutritious meals for husbands and 3 kids for each of us. We didn't come up here for a competitive cooking contest. Last night, we had a big dish of baked store-bought frozen lasagna, a salad of sliced tomatoes, mozzarella, basil and a vinaigrette, and a large bottle of wine. The minimal effort expended was in slicing the tomatoes and opening the wine bottle – and that's the way we wanted it! All leftovers were consumed so no time was wasted storing them as no dog was available to finish up the scraps.
On Sunday, after a big lunch out, we went to the Pocono Flea Market to walk off way too much food see what they had to offer.
That's Paul and Ray out there hunting through lots of shit to find interesting bargains – they also have a neat Army-Navy store there that had lots of stuff they were both interesting in, perhaps not to buy but at least to look at! Joy and I wandered about and looked at, turned over just about everything we saw! Lots of benches all around for when a "sit down" was needed.
Autumn foliage in abundance and beautiful to look at. And one scraggly weather-beaten sunflower trying to survive a winter in the mountains?
I bet it doesn't make it much longer.
Kayaking is a big thing up here, with so many streams all over – in additions to the peaceful Delaware River.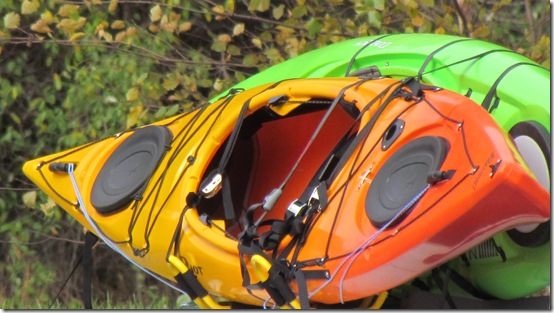 In case you're wondering, Senior Citizens do not attempt to take up this sport. I took this picture of kayaks on someone else's car, just 'cause I liked the bright colors!
What a great time with my big brother, too.