Damn Poodle
Was up way, way too late last night, doing some scanning and other computer chores. Husband got stuck working another all-night shift, so if anyone needs a poster picture to portray "happy camper," let me know and I'll take a quick picture in the morning and e-mail it to you. Anyway, I was here alone and could do what I needed to do in peace and quiet.
Guess that stinking damn dog just gave up waiting on me, or figured that all the schedules of everybody around here have gone crazy and well, she just wasn't having any part of it. When I finally shut the computer down, took my meds, I looked around for the dog, figuring she'd need one last trip out. Couldn't find her and she didn't come when I called. I was starting to get a bit concerned and went searching in our bedroom.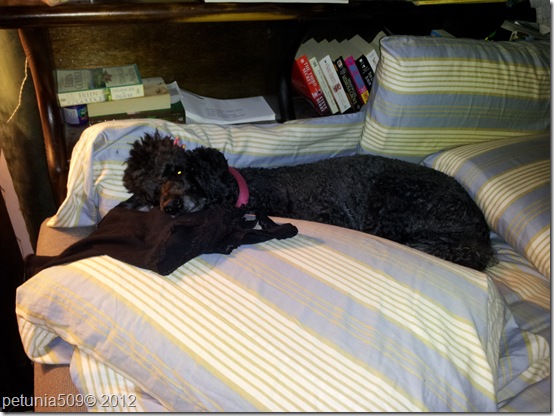 Damn dog went in there, tossed the pillows around until she found an arrangement to suit her, with no regard for the black tank top I left there, and looks quite comfortable. She never even lifted her head to give me that "It's about damn time!" glare, and was still there when I came back with a camera. I'm glad she likes the warmth of the waterbed, especially since she went to the Poodle Spa last week and got her winter coat taken off.
Still, she could sleep on HIS side of the bed, don't ya think?
Leave a Reply