Traveling day
It started well. Had just about everything ready to go last night before I went to bed. Always a few last-minute things that can't be packed up until morning, cosmetics and such out of the bathroom, medicines, items that are on a charger all night. After getting something to eat, a cup of coffee, taking a shower, getting dressed, I gathered what I needed and put it all in the car. Ran up to Sam's Club and filled the tank and headed south.
Saw one odd thing that tickled me – there's new housing developments sprouting up everywhere with clever little names for them. I glance at some of the names but not all of them, because I really don't care that much and I know I won't remember them anyway. There's just too many of them. Until I saw one. And looked again. And blinked to make sure. And it really wasn't what I first thought it was. Perhaps it was just the way my mind works. The name of the new section of housing was The Farthing Woods. Otherwise an uneventful trip, went over the bridge over the Chesapeake Bay and then on down south to daughter's house.
I stopped in a shopping center in Prince Frederick on my way down, looking for a store that I've been in many times before. I couldn't find it!!! While I admit that I didn't get out of the car and walk past every storefront, it's a small shopping center, the shop was always clearly marked before and I've never had difficulty finding it or spending lots of money there. Feeling rather stupid, I pulled into a parking spot that faced the fronts of the stores and looked from left to right again, hoping that maybe I just missed it while safely concentrating on my driving rather than sign-reading. Nope. Still no luck finding it. With so many small businesses failing lately, so many places going "Tango Uniform" as the military would say, I was saddened. Still hoping that I'm wrong and this is all just my stupidity, I'm not naming the business here. I had been concerned, when I pulled in off the highway that they might be closed on Sunday? Many small businesses are. I'll call them tomorrow, with my fingers crossed.
Arrived safely at daughter's to find the 2 boys outside playing and just wearing shirts, no coats! This is a Mid-Atlantic state, it is the 29th of January and it was warm enough to send children out to play in long-sleeved cotton shirts – or did I oversleep last night and it's really May??? Greetings all around, lots of baby-holding and twin-talking, bragging, and one remembered that Mommy promised they could go to the museum to see the otters. They meant the Calvert Marine Museum on Solomon's Island.
So off we all went down to the very end of the peninsula, near but not over that ghastly bridge. I'm OK with most bridges, dealing rather well with my long-standing fear of heights, but some still get to me, ones that are very high, or very narrow, or have very low side rails or ones that seem to go very quickly from going up one side to going down the other. This damn bridge scores on all points.
But we stayed north of the bridge and the Marine Museum was very interesting. For the kids and for us older ones.
A boat to play in, with real sails! And it looked like you were really out to sea, Alex!
A lighthouse to keep, or at least, to climb up in. That's handsome Nick, posing for me!
Sea turtles to pet – this one appeared to be posing for the camera, too!
Want to pet a horseshoe crab?
Fossils found in the cliffs near the Bay.  Handsome, isn't he?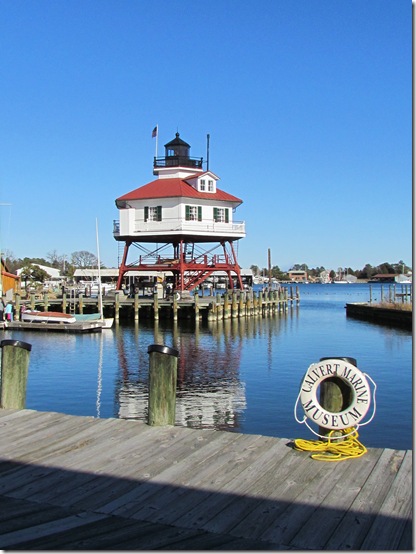 This is the original Drum Point Lighthouse, which was moved here for display at the Museum in 1975. It is open for inspection, but requires climbing up two flights of open stairs to get into the "house" and more climbing to go farther up. I might have been able to do the open stairs, would have done better if Paul was very nearby, but Kate had baby Josh in a stroller, and would have had to sit and wait while I did so, and try to corral the twins. Maybe another time.  But the light was good and the sky was beautiful, and I took lots of pictures.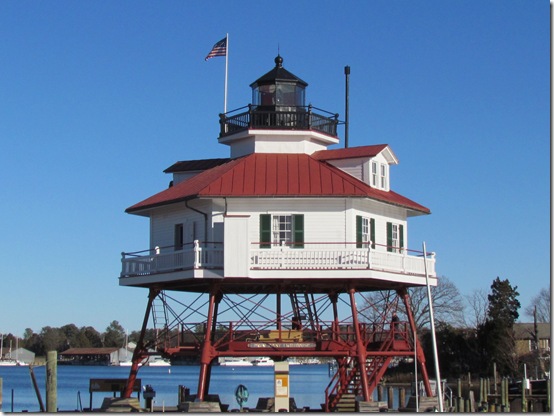 Can you tell I like lighthouses? Perhaps it comes from being raised in the shadow of "Old Barney." Would love to be able to travel and see many more!
On the way home, we stopped for some quick take-out meals, brought them home to eat.
Oh, while bringing in all my stuff from the car, a make-up case, a tote bag with fiber, my Ladybug spinning wheel, laptop, a bag of sweaters, a pair of sneakers, I suddenly realized that I didn't have my suitcase with my clothes inside.